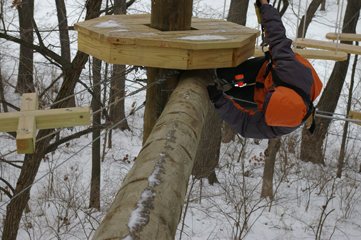 Working at height is a common occurrence in the ropes course industry. Employees may be required to climb towers, traverse high ropes courses, or work on elevated platforms. As a result, it is important for employers to take steps to ensure the safety of their employees.
One of the most important things that employers can do is to ensure that their employees are properly trained in fall protection. Employees should be trained on how to use fall protection equipment, such as harnesses, lanyards, and lifelines. They should also be trained on how to recognize and avoid fall hazards.
Employers should also provide their employees with the proper personal protective equipment (PPE). This includes hard hats, safety glasses, gloves, and steel-toed boots. Employees should be required to wear this PPE at all times when working at height.
In addition to training and PPE, employers should also implement a fall protection plan. This plan should identify the fall hazards at the worksite and outline the steps that will be taken to prevent falls. The plan should also include a procedure for responding to falls in the event that they do occur.
The Occupational Safety and Health Administration (OSHA) has specific regulations that employers must follow when working at height. These regulations can be found in 29 CFR 1926.502. OSHA also requires that employers use ANSI-approved fall protection equipment.
History of High Ropes Courses
High ropes courses originated in the United Kingdom in the 1960s. They were developed as a way to provide outdoor adventure experiences for youth and adults. The first high ropes course in the United States was built in 1971 at the Outward Bound school in Colorado.
High ropes courses have become increasingly popular in recent years. They are now used by a variety of organizations, including schools, camps, businesses, and the military. High ropes courses can provide a variety of benefits, including:
Teamwork building
Problem-solving skills
Confidence building
Leadership skills
Self-awareness
Risk management skills
ANSI Approved Full Body Harnesses
ANSI (American National Standards Institute) is a non-profit organization that develops and publishes voluntary consensus standards for a wide range of products and services. ANSI standards are developed by a consensus of industry experts and are recognized as the benchmark for safety and quality.
ANSI A10.32-2018 is the ANSI standard for full body harnesses. This standard specifies the requirements for full body harnesses used in fall protection applications. ANSI A10.32-2018 requires that full body harnesses meet the following criteria:
They must be made from durable materials that can withstand the forces of a fall.
They must have a secure means of attachment to a fall arrest system.
They must be comfortable to wear and easy to adjust.
They must be compatible with other fall protection equipment.
Employers are required to provide their employees with ANSI-approved full body harnesses when working at height. This requirement is in place to help protect employees from serious injury or death in the event of a fall.
Conclusion
High ropes courses can be a fun and rewarding experience for participants of all ages. However, it is important to take steps to ensure safety. By following the safety guidelines outlined above, you can help to prevent falls and keep participants safe.