Head Rush zipSTOP IR/ zip STOP IR Zip Line Braking System
The best brake for your zip line,Head Rush zipSTOP Zip Line Brake uses Head Rush's self-regulating eddy current magnetic braking system to brake zip line riders smoothly, comfortably, and consistently, even at high speeds.
Head Rush zipSTOP IR Braking System/Brake for Zip Line
What is the best braking system for your zip line? The Head Rush zipSTOP IR Zip Line Braking System! This is the latest technology in zip line braking systems from Head Rush Technologies - the zipSTOP IR braking system. It's simply the best braking system you can get for your zip line. The kit uses a self-regulating eddy current magnetic braking system to brake zip line riders, bringing them to a smooth and consistently comfortable stop every time, even at high speeds. This makes for happy customers, higher throughput and an increase to your bottom line.

The zipSTOP IR is a streamline version of the popular Head Rush zipSTOP with the "IR" standing for Internal Reduction. This means that the device, unlike the zip STOP, does not need an external reduction line system.

Therefore making installation much easier along with a saving on cost too.
Click here for Recertification.
Head Rush zipSTOP IR Highlights:
Our patented eddy current braking technology – automatically adjusts the braking resistance to the weight of the rider for smooth, comfortable deceleration

High range of allowable rider weights and speeds, giving you flexibility in zip line design and operations

Eliminates rider participation in braking, minimizing the potential for human error and significantly reducing staff involvement and risk

Provides consistent braking and automatically resets after each ride, greatly increasing zip line throughput

Low maintenance needs and a low cost of ownership, with minimal parts replacement (webbing and bumper)

Can be installed in any outdoor environment and can withstand the elements (no need to cease operations due to wind, rain or snow)
The assembly includes:
zipSTOP Zip Line Brake device

Brake trolley

Mounting bracket

Key zipSTOP IR Benefits:

Eddy current braking technology adjusts automatically to ensure a smooth rider deceleration.

Allows for a wide variety of rider weights and speeds.

Automatically resets after each rider, minimizing human error.

Helps mitigate risk by removing human error from the rider or guides.

Low cost of ownership, including an annual recertification at $399 and replacement of sacrificial wear parts.

Able to withstand outdoor environments and work consistently in any conditions.
Rated Working Capacity:
15 to 150 kg (33 to 330 lbs)

Device Weight: 23.5 kg (52 lbs)

Model Number: ZSIR150-20A
Rated Working Velocity:
6 to 60 kph (4 to 37 mph) utilizing a direct 1:1 load*
*This device cannot be used with external reduction lines.
Line Specifications:
Type: Nylon/Dyneema Webbing

Width: 20.8 mm (0.8 in)

Thickness: 1.5 mm (0.06 in)

Breaking load (new): 22 kN (4946 lbf)
Safety Standards:
Meets ASTM F24 Standards.
Comparison Chart
Having trouble deciding between the zipSTOP and zipSTOP IR? Take a look at the chart below. For maximum benefits, make sure you get the right zipSTOP model for your zip line operation.
Features
Head Rush zipSTOP
Head Rush zipSTOP IR
Capacity
15-150 kg (33-330 lbs.)
15-150 kg (33-330 lbs.)
Device Weight
23.5 kg (52 lbs.)
23.5 kg (52 lbs.)
Webbing Length
12.5 meters (41 ft.)
20 meters (65 ft.)
Webbing Breaking Load
15.6 kN (3,507 lbs.)
22 kN (4,946 lbs.)
Reduction Line?
Yes, reduction lines recommended over certain speeds(see below)
No, reduction lines cannot be used with the IR
Rated Working Velocity
6-36 km/h (4-22 mph) = 1:1 reduction ratio
10-60 km/h (6-37 mph) = 2:1 reduction ratio
60+ km/h (37+ mph) = Call us for more details
6-60 km/h (4-37 mph)
60+ km/h (37+ mph) = Call us for more details
Why use the zipStop Brake Trolley rather than a standard brake block?
The zipSTOP Brake Trolley is engineered for a fine balance. It is able to handle the abuse of heavy impact collisions, yet light enough to increase the odds of reliable reset. Heavier systems (or those with higher built-in friction) will result in the increased frequency of manual reset. And, while you should always have an attendant check that the line resets after each use, this reliability will increase safety.
The act of rider/brake trolley impact can be loud and unsettling to participants, unless an effective bumper system is employed. The zipSTOP Brake trolley employs a highly shock absorptive sacrificial bumper that is easily replaced when it wears. This ensures the best possible rider experience.
How does the zipSTOP reset?
The zipSTOP reset is an automatic function which is both quick and reliable when configured correctly in a standard 1:1 or 2:1 configuration. It works on a simple spring mechanism which retracts webbing back into the unit once the rider has dismounted, readying the brake for usage again. On the rare occasion that obstructions may have prevented this reset, a quick visual inspection and manual reset is required prior to each ride. Obstructions may include supplementary lines or other objects that have become tangled in the system, preventing webbing from retracting.
How durable is the zipSTOP?
The zipSTOP is extremely durable under "normal" operational usage of a high speed commercial zip line facility. The unit itself is designed to be weather resistant and remain operational even under extreme environmental conditions.
The non-contact braking technology means that the unit has very few parts that will wear out. The casing which is made of aluminum alloy and internal parts which are made Zinc plated steel are both durable and water resistant. Rather than a having a completely sealed unit the zipSTOP has been intentionally designed to allow water to pass through without affecting operational performance. The line coming from the zipSTOP is 20 mm Nylon Spectra webbing and is also field replaceable. The brake trolley has an Aluminum Alloy casing, steel wheels and a sacrificial elastomer bumper. It is designed for a maximum speed of 100 kph (62 mph).
Can I use a TRUBLUE Auto Belay instead of a an zipSTOP for my zip line braking system?
No, while the zipSTOP uses the same base technology and operates in much the same to way to the TRUBLUE in its function as an arrest system, the design has been completely modified in order accommodate the higher loads and different operational parameters of a high speed zip line compared to that of a climbing wall. Use of the TRUBLUE for the purpose of zip line braking is dangerous and therefore prohibited.
Does the zipSTOP have to be installed by a certified installer?
No. Using the Operator Manual, a competent builder can configure and install the zipSTOP braking assembly, provided that requisite engineering has been performed. Note that design and implementation of an actual zip line must be carried out by a professional and experienced zip line installer.
Recommended Products
Items we recommend for anyone planning to setup a zipSTOP or zipSTOP IR Braking System: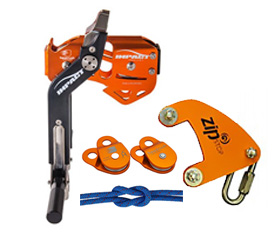 More Information

| | |
| --- | --- |
| Manufacturer | Head Rush Technologies |